I bought some clothes! They fit! They're sort of professional. I'm not entirely sure what to do with them, but we'll see! Mostly I'm putting this here so I can link Emily to it and show her my shoes and also the coffeemaker I got for her, which...may or may not actually work aaaah.

Okay off we go.
First off: shoes! These came from Payless, on clearance for $12. I think they might be a little bit snug, but the shoes in the next size up felt juuuust too big and slippery, so I went with these to be safe. I don't think they're real leather, so I don't know how much they'll actually stretch out, but we'll see.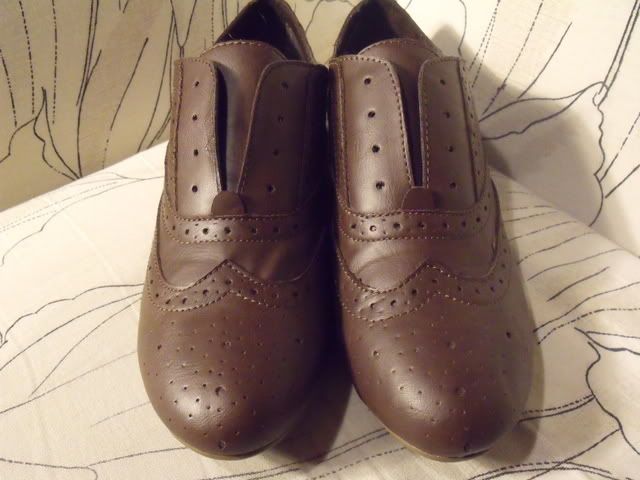 Front View. They didn't come with laces. Do I need to buy laces for these? They're also a richer, more chocolatey brown than the picture.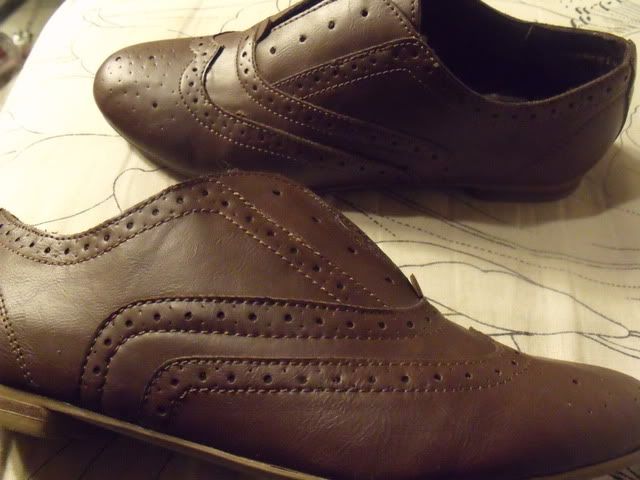 Deets.


Okay, I dunno. The next few pictures are possible-outfits made up of my newest dressy clothes.




I really like this blue top. It was weird and saggy in the boob area, but then Jonathan altered it a bit, and now I like the way it looks. It's really comfortable, too, so that's good. I'm a huge fan of the color, too, sooo. I'm wearing this on Monday.



I dunno about this one. I definitely need to iron the collar, oops. It's a teeny-tiny checkered pattern?



When I went shopping again tonight, I found a white shirt like the blue one above! I probably won't wear this one by itself, since it'll show off my bra and everything. Therefore:



My brown outfit! Hah. I'll wear those brown shoes with this one.



I can't decide how I feel about this shirt. It fits well, and it's just a little bit stretchy, so it shows my shape a little bit, and it's comfortable, and I like the color, but I feel like it looks a little too much like a men's pajama shirt? Please tell me you like it, LJ. I'll be wearing cardigans or vests or something over it, to tone down the pattern.



FINALLY, Emily, this is what I know you wanted to see. Yo' coffeeeeemaker. Looking at it, there MIGHT be a part of it missing up at the top, but I'll try it out. I dunno.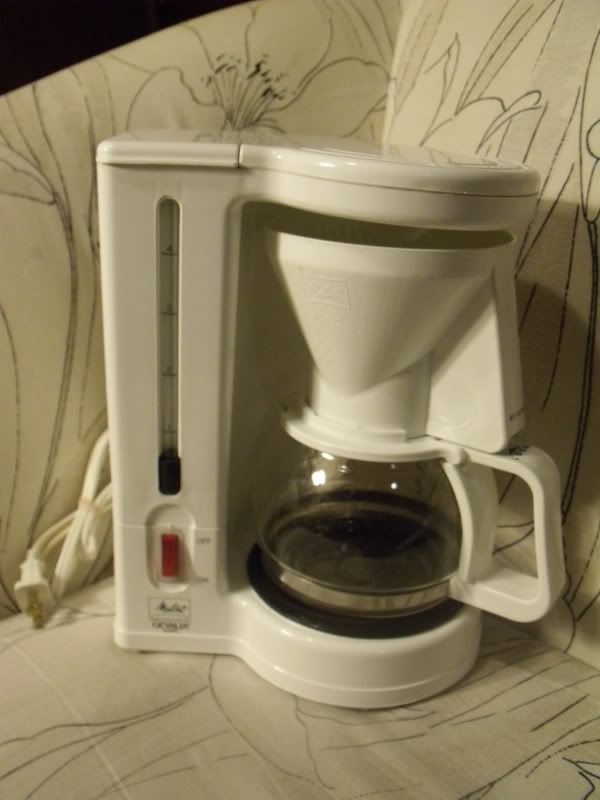 Shoe included for scale.


Question: Do you think I can wear brown with black? Or brown with charcoal? I can't really figure it out. Should I keep my black/gray sweaters matched always with my black pants? What about my navy blue pants? Fashion is hard. :(